After screaming the house down for close to forty-five minutes, and pulling at various peoples legs, Kaity finally managed to convince Madison and the Lansing children to stay without having to say too much.
Madison watched the young girl, effortlessly making even this battered old xylophone sound good, and wondered what had got her so panicky earlier. She seemed calm as anything now, like any child her age should. She had refused to sleep though, so Madison had decided to stay up with her until she was tired. Taylor had offered, but she had work in the morning, and Madison had forced her to bed.
"No more dreams tonight, okay honey?" Kaity nodded sleepily, and Madison left her to sleep.
She headed downstairs, to get some sleep herself, and was surprised to find Taylor sitting at the table, crying.
"I told you to go to bed." She scolded playfully. "Go on, spill."
"It's Kaity." Taylor replied, after taking a few seconds to compose herself. "I don't know what to do, Madi! First the nightmares, and now... Well, I don't even know what that was today! She just freaked out and I have no idea why."
"She did seem very insistant that we stay in. I wonder why?" Madison asked to the room, knowing Taylor didn't know the answer either.
her
..." Taylor's tone had changed to anger, and she creased her nose in disgust as she spat out her last words. "I swear to God, Madi. I don't care if I go to jail for life, I'll do whatever it takes to get her to leave us all alone."
"Tay, you don't mean that. Sure, she's a dirty evil bitch, but if you did anything..." Madison knew exactly who her sister meant. She sighed as she tried to find the words to explain herself. "Just don't stoop to her level, Tay. You're better than that. You're better than her. You're a brilliant, kind, loving mother, aunt and sister, and she's nothing but scum." Taylor looked up at Madison, and wiped the tears from her eyes.
"Thank you, Madi." She forced a smile, and jumped out of her chair, rounded the small table, and pulled her sister out of the chair and into a tight hug.
"I promise you, Tay, we can get through anything together." Taylor rested her forehead on Madison's shoulder as she started crying once again.
"Madi, I love you, you know that right?"
_____
Shaena looked around the small gathering of family and close friends. It was mainly family. Summer and Layla were here, but Summer was practically family, while Layla surely would be one day. Shaena had hoped Summer would bring Bonnie, her daughter, as she wasn't much older than the triplets and would have made a good distraction for Rose and Jake so she and Kaity could sneak into a different room after the ritual. It didn't matter too much though, there were enough people to distract them so they could be left alone.
"I promise, Kait. Your secrets will always be safe with me."
"Kaity, everyone has dreams that feel real, it's nothing to worry about."
"No, this is different." Kaity wondered if she should really be saying anything at all, what could this kind of information do to Shaena? "They come true."
"Shae, I didn't want to tell you this, but the night before you asked to go see your Dad's grave..." Kaity trailed off, seeing Shaena's eyes light with recognition, clearly remembering how she'd made such a fuss about them not going. She still hadn't been, but hoped to go in the next day or so, as her mother had promised.
"What happened in the dream?" She questioned. As Kaity decided how much to tell her, she took a deep breath.
"I saw you, Luis and Aunt Madison at his grave. You were all dressed up, like it was a special occasion, and it was a full moon. I couldn't hear anything, it was like a silent movie, but a man appeared in a flash of blue light behind you. Your Mum grabbed you and pulled you out the way, and it looked like Luis was protecting you both. He looked angry and you were crying. The man pushed him to the side, and then tried to grab you. Your Mum fought him, and you fell over, but quickly got up again when the man pushed her to the ground too. And then he took your hand and you looked terrified."
"And then what?" Shaena couldn't believe her cousin had stopped there.
"And then it ended and I woke up. I think he was going to kidnap you or something, but I can't be sure." Shaena stood there in stunned silence for a minute. She was about to reply when Jake came in.
"Yeah, wait a minute, Jake. She'll be in bed soon." Shaena was annoyed by the interruption at such a crucial point in the conversation.
"No, wait! Do you promise to tell me every dream you have?"
"Yeah, I guess. Look, we'll talk about this more another time, you start high school tomorrow so you should probably get some sleep too."
_____
"Oh, God, I totally agree, Tay. Can you believe we've both got kids in school now?"
The party was winding down, it was gone midnight, and as it was a Thursday night, all the guests had either work or school the next day. There were still a few milling around. Taylor didn't mind, but the few who were left she didn't even know. They must've either been guests of guests, or crashers.
"I'd love that, Tay!" Summer smiled at the idea of feeling like a kid again.
"Ok, I'll just kick these guys out."
_____
"I just don't know what to do! What if they don't go away as she gets older? What if she has these nightmares for the rest of her life?" Taylor didn't expect a response, and she didn't get one. Summer just held her tighter. As a human, she'd not had any experiance of things like this, until Bonnie was born, the Mattells were the only connection she had to the supernatural. It was different with Bonnie, though. She was a vampire, like her father, and he was always around to support her and give advice. "I'm sorry, Sum. You don't need to hear this, and it's getting... Early. Maybe we should get some sleep? I have to be up and ready to leave the house in 5 hours."
"Sorry, Summer. How's things with you and Bonnie? You realise you've never properly told me what happened between you and Cortez?" Summer sighed.
"Best get comfortable, Tay. It's a long 'un."
"Done. Spill."
"Well... It all started when we got drunk... Well, no... You know when it started, you were there, but this bit started when we got drunk. We weren't out together. He was out for someone's bachelor party, and I was just catching up with Chiquita. Chi had to go, you know what crazy hours she works, but I didn't want to yet. So I figured I'd just have a couple more drinks, and then call it a night. Then Cortez spots me, and comes over. He kept buying shots. Rounds for the group he was with, but he'd get me one every time as well. I should have stopped hours before I did, but before I knew it, it was closing time. He practically carried me to a taxi, and had to help me to my door. I insisted he stay, and he was in no fit state t think straight himself. So then, well, you can work this next bit out... And then when I was pregnant with Bonnie, he took me out to dinner once or twice, but it was just so awkward and I figured it'd never work, and I should just accept the fact that I'd followed in my mothers footsteps and was destined to be a single mother."
"That's a sweet story. I hope I can find someone one day."
"Aw, Tay. You will! Don't forget you've got like a billion more years than me!" Both girls were suddenly saddned by the thought of Summer dying. It wasn't long before she'd be old and grey and thinking of retirement. Taylor was still in her prime, and it was horrible seeing her best friend age. They'd been through everything together, and Taylor didn't want to imagine life without her.
"Uh, Summer... It's three thirty. I really need to get some sleep..."
"Oh, God! Ok, lets get some sleep."
I apologise for how jumpy the party/birthdays are. I had save errors and just aged them and then threw another party in the end.
Blurry! Sorry. I think from day one Kaity was winning, but Rose caught up near the end. Because of Rose's popularity, I'll make sure she has a big part throughout her child and teen years, don't worry :)
Oh, I decorated the rest of the house now! And it's all fully furnished :)
Sorry, no more chairs though! Eek...
And now for the age-up picture spam: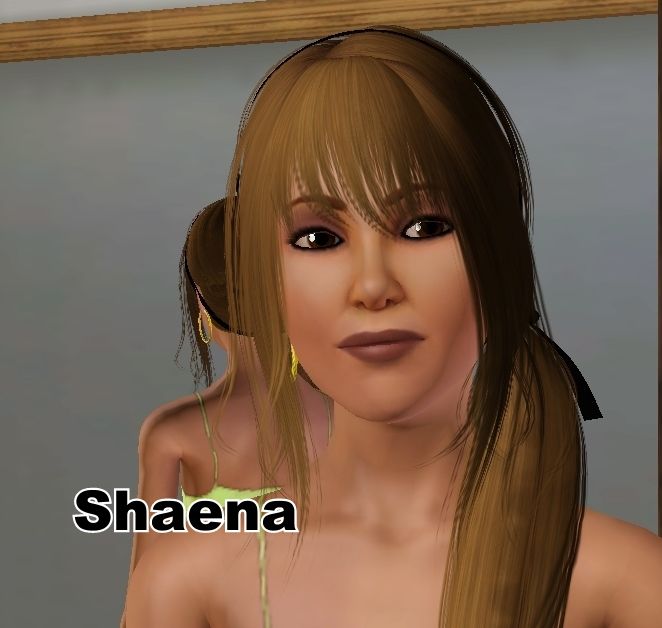 Good, Friendly, Artistic and Brooding
Excitable, Clumsy and Absent-Minded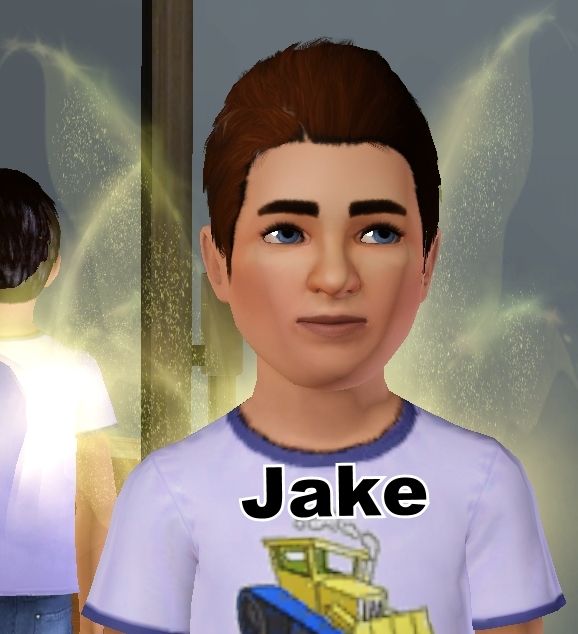 Loner, Brave and Loves the Outdoors
And your heir: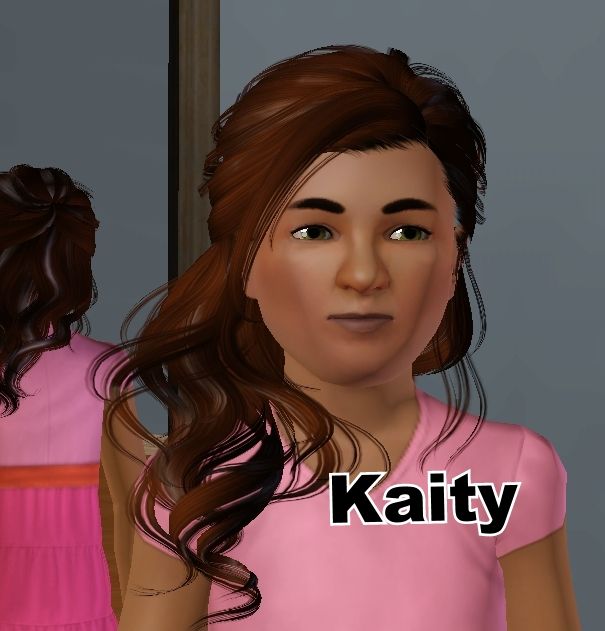 Genius, Clumsy and Family Oriented